Jets need more Tebow Time
Count me among the few that weren't irate when the Jets traded for Tim Tebow. In an hour-long conversation with Brian Bassett of TheJetsBlog, I thought Tebow could be a useful football player. He has skills and the attitude that can only help a team that struggled to run the ball in short-yardage situations and a locker room that seemed devoid of leaders with good intentions and better personalities.
Yet, seven weeks into the 2012 season, it's fair to wonder why the Jets even acquired Tebow. Yes, the ratio of media coverage vs. actual usefulness is horribly askew to the former, but to act like Tebow can't help this team is just as ignorant a thought as the MSM's coverage.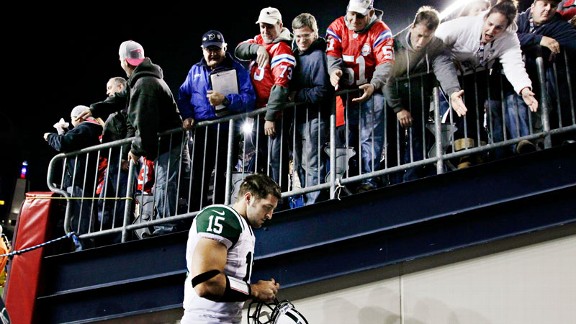 The question of whether Rex Ryan even wanted Tebow has been answered — but that's another topic for another, angrier Tannenbaum-centric post. The question of whether offensive coordinator knows how to use Tebow is far more pressing. Where's this "Tebow red zone" package we heard so much about all August? The Jets certainly could have used Tebow's short-yardage presence after Shonn Greene got his bell completely rung in Sunday's loss.
This isn't some plea for the Jets to bench Mark Sanchez, nor is it an avid Tebow devotee (of which, I am not) telling you how much No. 15 can help as a running back, tight end or occasional wide receiver. But the truth is that the Jets need a better idea of how to use their unique weapon. The best playcallers in football maximize unique talents. The Patriots revolutionized the passing game not once, but twice by doing just that. First, by turning a little-known slot wideout from the Dolphins named Wes Welker into a 100-catch monster. Then, just when teams thought they had a beat on that scheme, they unveiled the Gronk and Hernandez show. You could also make a case for Danny Woodhead as another prime example. But it's not just in New England — look all over the league: Devin Hester in Chicago, Randall Cobb in Green Bay, Darren Sproles in New Orleans.
There are plenty of examples of teams finding ways to put the ball in the hands of their best playmakers and say what you will about Tebow; he's a playmaker. As the Jets move forward, they have to find unique ways to maximize their offense with a team that's like on depth and dealing heavily with injuries. If the Jets want to make a serious play at being a wild card team, they'll need more Tebow Time to do it.
More Articles!
Jets Twit on Instagram
Sorry:
- Instagram feed was successfully retrieved, but no photos found.